...................................................................................................................................................................
Hillary Clinton Had the Best Clapback to Someone Who Said She Should Smile More
By Amy Capetta, September 8, 2016
Last night, Hillary Clinton sat down with Matt Lauer for a televised interview. Afterward, RNC head
Reince Priebus, took it upon himself to tweet that Clinton was "angry + defensive the entire time
- no smile and uncomfortable - upset that she was caught wrongly sending our secrets."
And
Clinton responded
in a pretty amazing way.
Hillary Clinton ✔ @HillaryClinton
Actually, that's just what taking the office of President seriously looks like. https://twitter.com/Reince/status/773694140404170752 …
6:40 PM - 7 Sep 2016
In July, Hillary Clinton made a historic speech as she accepted the Democratic presidential nomination with "humility, determination, and boundless confidence in America's promise."
And
while millions of Americans watched the first woman to lead a major party's presidential ticket address the nation
from the convention stage in Philadelphia,
some men in the Twittersphere were all abuzz … about her smile.
Or lack thereof.
Steve Clemons ✔ @SCClemons
Instead of lecturing 2 citizens @HillaryClinton needs 2 have conversation w/us. Modulate voice. Tell stories. Set hopes. Smile #DNCinPHL
7:43 PM - 28 Jul 2016
But this wasn't the first time the former secretary of state and first lady has been criticized for her expression. Back on March 15, MSNBC host Joe Scarborough tweeted this while Clinton was giving her victory speech after winning the Super Tuesday primary:
Joe Scarborough ✔ @JoeNBC
Smile. You just had a big night. #PrimaryDay
6:10 PM - 15 Mar 2016
Many women didn't take too kindly to Scarborough's suggestion, including Samantha Bee, a comedian and political commentator who tweeted this response: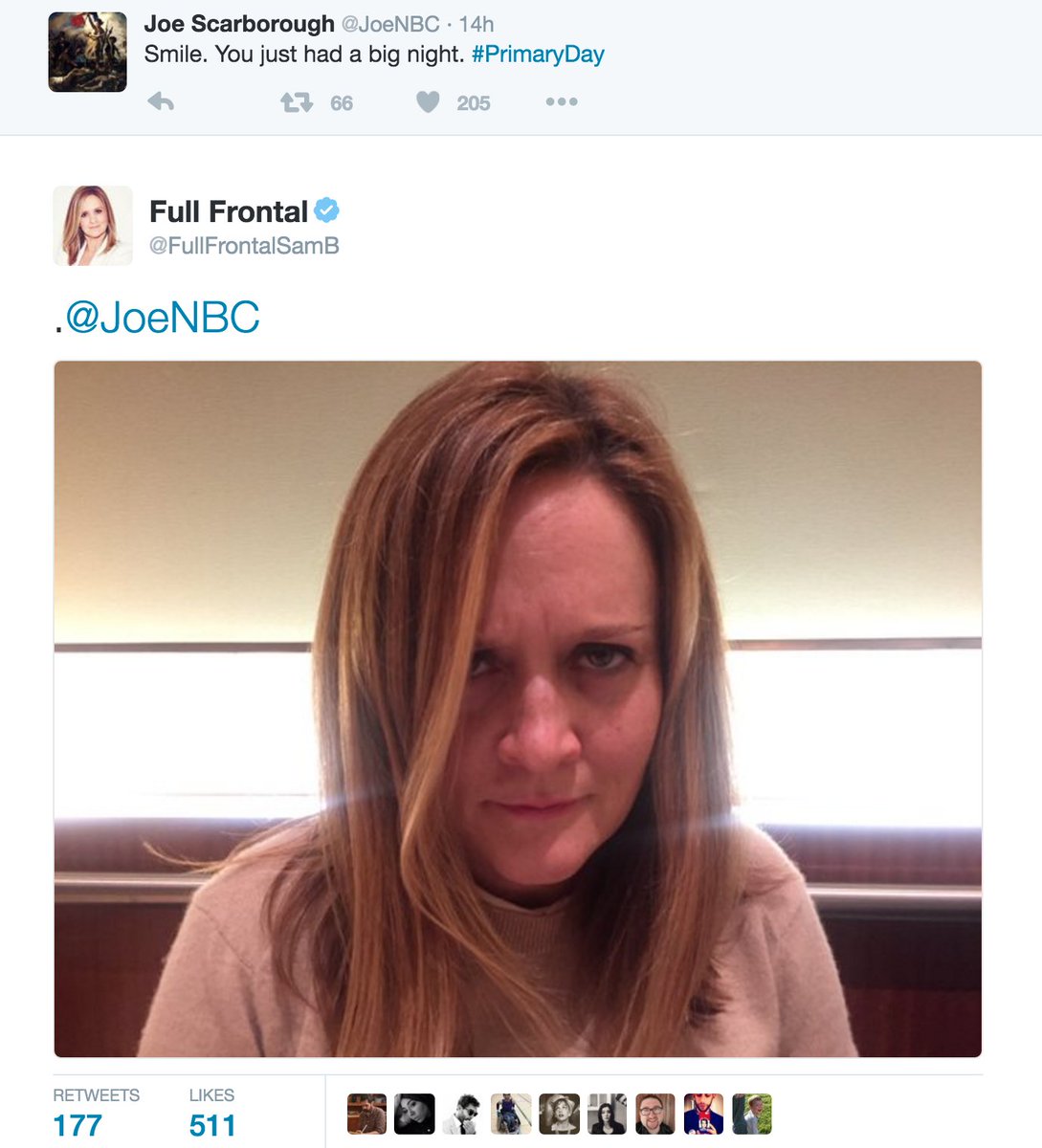 Full Frontal ✔ @FullFrontalSamB
Ladies, it's very important that you #SmileForJoe.https://twitter.com/FullFrontalSamB/status/710112013310140416 …
8:17 AM - 16 Mar 2016
"Men attempting to police Clinton's appearance keeps happening because of sexism,"
Tatyana Fazlalizadeh
, a Brooklyn illustrator and painter who created the art series
Stop Telling Women to Smile
, tells Yahoo Beauty. "That a woman as intelligent and accomplished as Hillary Clinton is being told to smile during her convention acceptance speech demonstrates how
women are expected to appear pleasant and soft all the time — no matter their position or success. It's actually quite absurd.
"
"Clinton is in an extremely difficult position,"
Sheela Raja, PhD
, a licensed clinical psychologist and an assistant professor of health communication and behavioral medicine at University of Illinois at Chicago, tells Yahoo Beauty. "Many people expect top leaders, like the president, to be tough, able to take quick decisions, and to be experts at appropriately delegating authority. However,
studies show that female leaders are often expected to be likable, collaborative, and social — and those are all qualities associated with smiling."
She continues that many people tend to also link smiling with kindness and friendliness, even though smiling may not indicate either of those characteristics. "Now
here is the paradox — if Clinton smiles too much, she will likely be accused of not being tough or serious enough to be president," states Raja. "But if she doesn't smile, people think she is not likable or approachable, which are qualities they may want in a female leader but not a president. It's a double standard."
However, Clinton isn't the only woman being told to show her pearly whites.
"Gender-based street harassment is sexual harassment that happens in public spaces," explains Fazlalizadeh. "It happens when women are sexualized and experience unwanted and often aggressive behavior from men."
And these remarks or gestures range from comments about a woman's appearance as she walks down to the street to physical assault.
"It's important to point out this behavior so that the public pays attention to the wide range of sexism and how it affects women's daily lives,"
adds Fazlalizadeh.
So, how should a woman respond to a male stranger who only approaches her to say she'd look better if she smiled?
"If we really want this behavior to disappear, the best method is to ignore it completely,"
advises Raja. "When a man receives no feedback — in psychology, we would say 'no reinforcement' — for the comment, the behavior is likely to go away over time."
But for those ladies who refuse to be silent, Raja offers this comeback:
"If you feel you absolutely must respond, try to stick to something factual, for example, 'I'm reminding you that you have no idea what another person is dealing with on a given day.'"
...................................................................................................................................................................